5 Must haves to look for in your Employee Experience Platform?
With the unprecedented changes in the way we work HR Leaders have been striving for Employee Experience Solutions to help them reach out to their employees and understand their state of mind. Evolution of Gig economy, ever increasing participation of Gen Z in workforce and changes in way we work due to looming effects of Covid 19 pandemic have further accelerated challenges of Attraction and Retention of Talent.
Employee Experience (EX) Management platforms are built to listen to employees by gathering their feedback, text analysis, sentiment analysis and enabling HR to take actions to help them improve engagement, retention and engagement.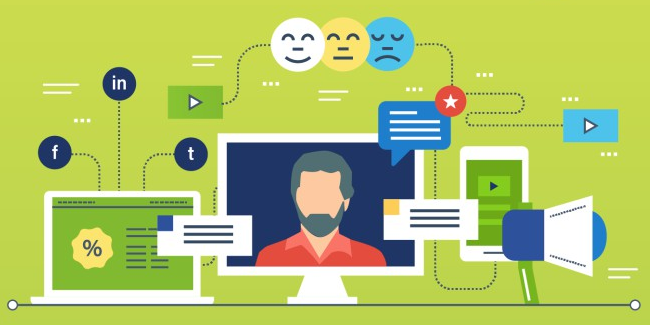 At their core, EX management platforms distribute and manage employee surveys, whether it be periodic long-form surveys or ongoing pulse surveys, to gather data continuously. While they all may look alike, there are striking differences in the methodology and approach they follow to reach-out to employees, collect their feedback, insights they generate and actions they recommend which becomes proprietary over time. The methodology and approach are as important as what the Platform do.
5 Key factors to look for in an EX management platform: –
1. Beyond Surveys: Deliver Humanized and Personalized Experience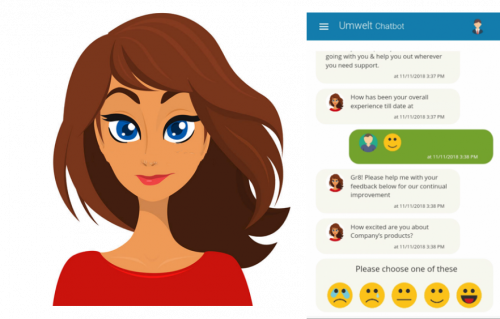 Digital workplace tools that measure employee engagement and collect surveys are not new. Employees live in this highly digitized world today and have access to modern tools / apps, getting highly personalized experience with ease of use. They are looking for similar experience at their workplace.
Long gone are the days of those one-for-all form-based surveys where 50-60 questions were asked from each employee irrespective of importance to them.
Few vital features you should be looking at: –
ChatBot to make humanized conversations with employees.

Configurable language of the ChatBot to make these conversations adapt to your organization's culture without requiring to go to IT team(s); saving you cost, time and effort.

Creation of unique user groups across the Organization as need of each these unique group would be and therefore conversation with them should be different.

Allocation of conversations across employee journey to make these conversations personalized as per employee needs.
2. Behavioral Science: Resonating your Culture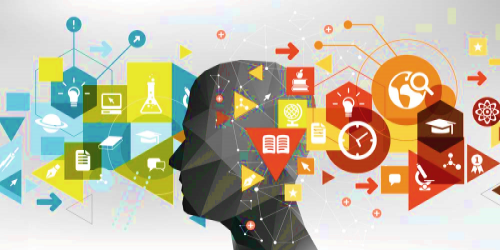 Every organization is different irrespective of being in the same Industry. Example – Google and Facebook may belong to the same industry, but their hiring methodology, competencies desired and therefore needs and motivations of their employees are different.
The employee EX platform must have a comprehensive framework to diagnose the Experience of the employees and at the same time give HR Leaders an opportunity to configure the framework as per their Organization's unique culture to resonate the experience they want to deliver to their employees.
Key elements to evaluate in your employee EX partner: –
i. Partner should have a thorough understanding of organizational design and psychological principles.
ii. Partner should be actively working with you to understand your culture and help you in designing effective interventions without or with minimum cost.
iii.Platform should allow configuration of factors, drivers, questions and responses.
3. Automated Reach Outs: listen to employees through-out journey

Most platforms offer you initialization of manual surveys adding to huge administrative burden or the most recent modern platforms enable you automate periodic surveys still falling short of much desired requirement of being able to connect to employees across journey. Leaving important insights during important junctures, e.g., – post on-boarding, post induction, post going to work, completion of performance management cycle, post policy change, on exit any more such events.
Key triggers for reach-outs you should be looking for: –
i. Lifecycle based interventions from date of joining which could be configured the way you see lifecycle in your organization, Example – 7 days, 30 days, 60 days, 90 days….from date of joining.
ii. Periodic interventions to connect with all employees periodically on weekly, monthly, quarterly…basis
iii. Manual reach-outs on completion of important events.
iv. Exit reach outs post leaving the organization.
Most importantly as your Employee data is ever changing these triggers should allow initiation, disablement, re -assignment, deletion of these interventions automatically to save the overheads of administrative efforts and resources.
4. Real-time Insights: Analytics, Risks, Text Analysis, Sentiments, Visualization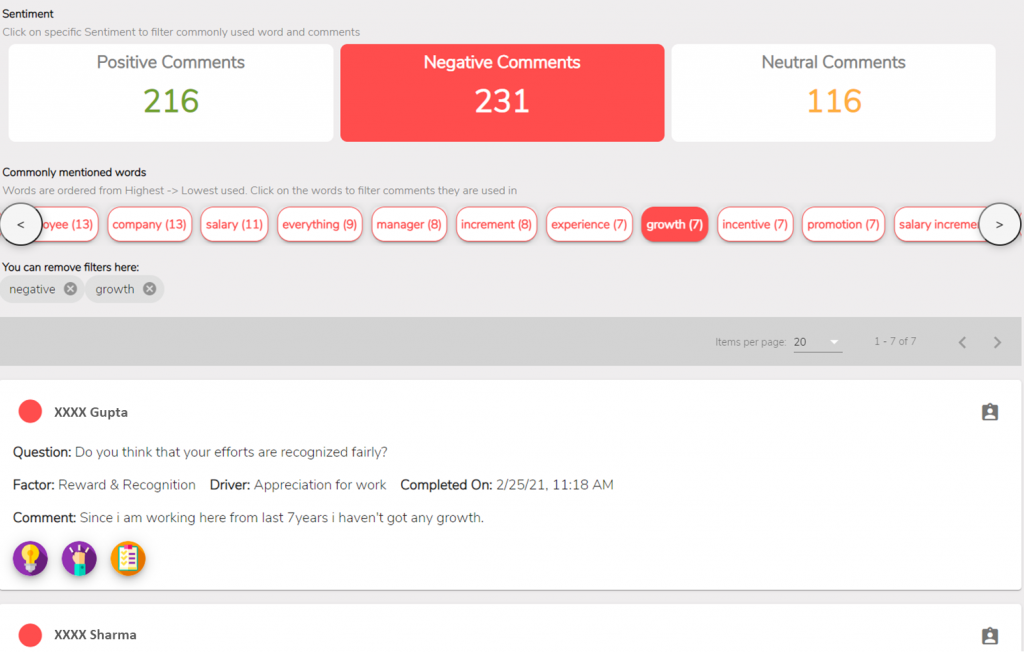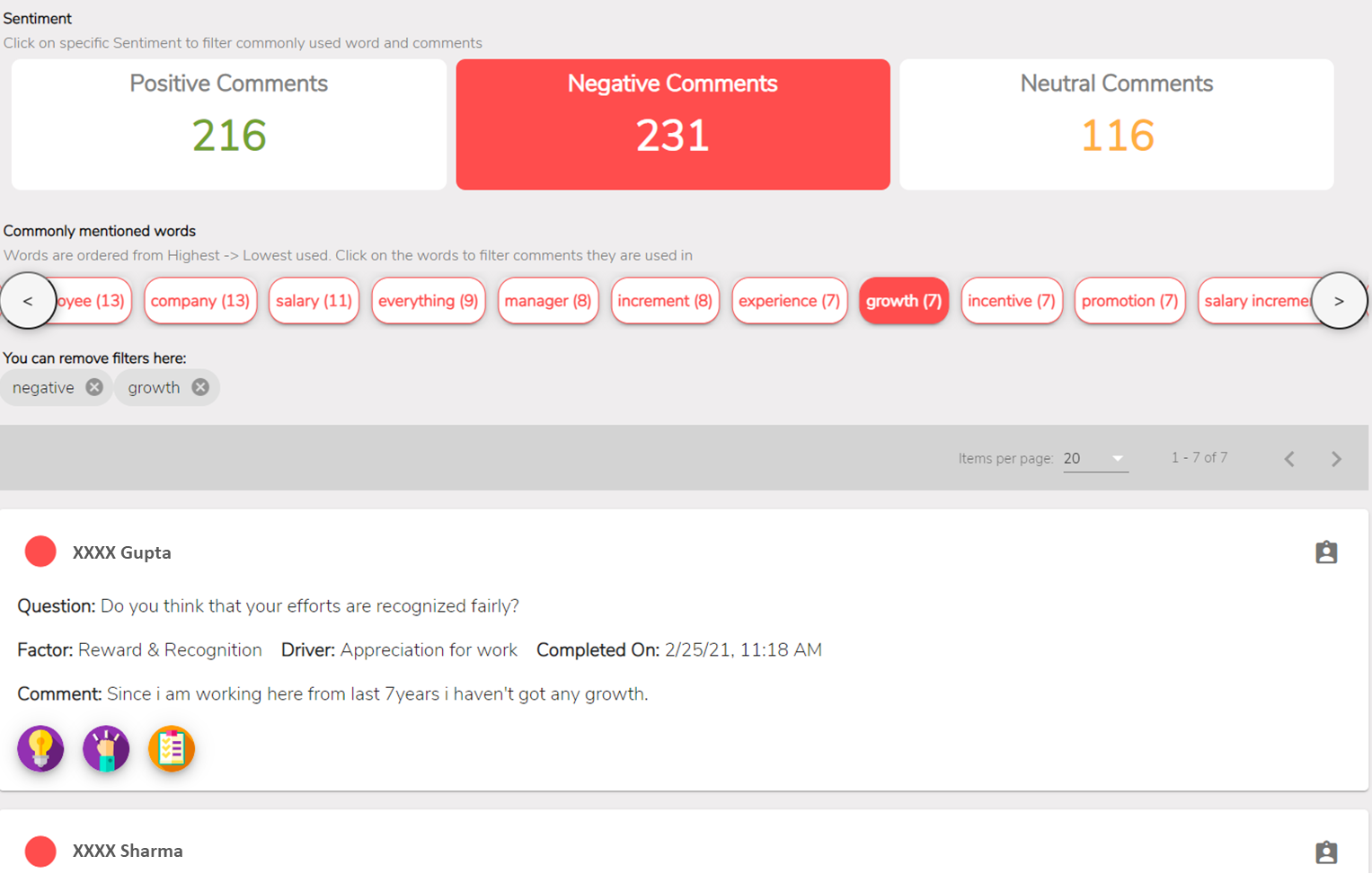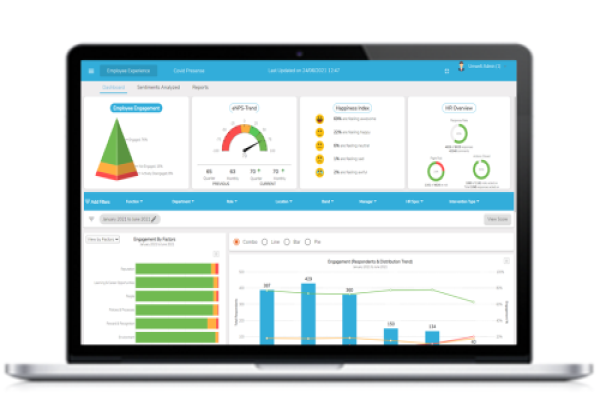 In today's world where everything is changing so fast internally and externally, we cannot rely on reactive data to help us move forward. With Evolution of Cloud, Data Science, A.I, M.L it is much relevant to have real time insights to make informed decisions and build continuous knowledge to create a competitive advantage.
Gone are the days when employees were looking to share their feedback anonymous. They today want you act on their feedback and help them being more successful at work.
Capabilities for effective Employee Experience Analytics: –
i. Understanding Employee Engagement only hasn't helped companies in last over 20 years of use. It needs to be together looked at with NPS, Mood and Sentiments.
ii. Must have capabilities to identify employees who are unhappy and are in risk of leaving.
iii. Should enable you to create your own graphs, charts by all possible segments to give you horizontal as well as vertical insights.
iv. Should be intelligent to read text feedback, analyze sentiments and words for strategic decision making
5. Actions: to engage and retain proactively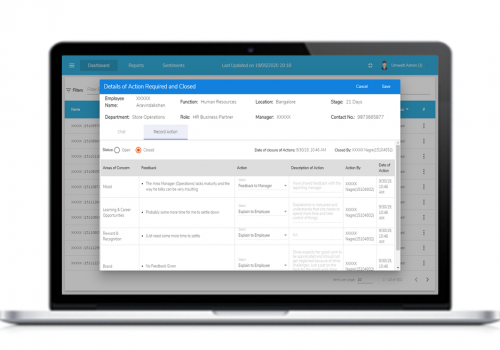 One thing which all predecessor Employee Experience Surveys were missing is helping HR Leaders in taking actions which will lead to continuous improvement in Employee Experience.
Today HR Leaders are the key force in driving businesses and they need EX platform which will resonate CX to respond to each employee needs proactively to keep them engaged, productive and retained.
Key takeaways for Actions: –
i. Your EX platform should deliver alerts right into your inbox.
ii. Authorized HR Partners should be able to view employee feedback, areas of concern and solution they envisage to take proactive actions just like any CRM will have for customers.
iii. You should be able to record and monitor individual actions to enable continuous learning to enable validations and generate recommendations using M.L.
iv. Offer specific actions based on cognitive science.
At Umwelt.ai we believe in bringing happiness to lives of people by making them more successful at work and therefore have incarnated Nikki; A virtual Employee Experience Management and Analytics assistant to help HR Leaders listen to, analyze and act on employee experience in real-time using Behavioral Science, ChatBot, A.I / ML, Text / Sentiment Analysis for better engagement, retention and productivity.
Are you looking to create Employee Experience of tomorrow? Book a meeting here -> https://calendly.com/umweltvishal/lets-get-you-started and I will love to travel with you throughout this journey.