Keeping your Organization
Safe

Resilient

Productive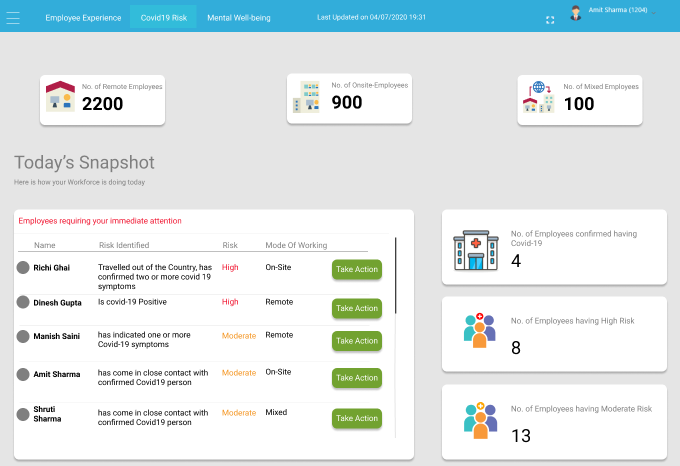 Stay On Top Of Your Employee Health And minimize Risks
With multiple waves of Covid19 threatening to again disrupt businesses; containing spread of Covid19, taking care of employees health and keeping business running are 3 big challenges each company is preparing for.
Covid PreSense is an Intelligent Predictive Solution from Umwelt.ai to help you get vital Insights into your Employees Health in real-time and interact with employees who need your help proactively to minimize Risks and stay Productive in these unprecedented times.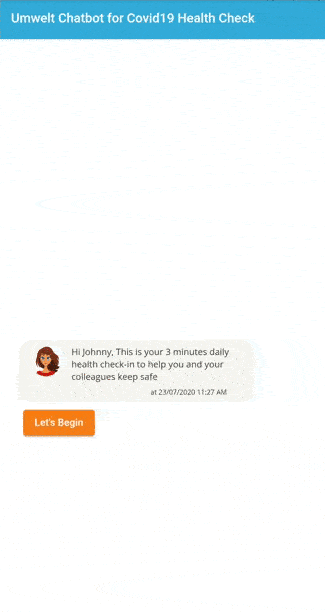 Humanized Employee Interactions
gauge Risks Proactively. Interact Personally. Humanize Experience
Nikki, an Intelligent Employee Engagement Assistant, not  only connects with and collects feedback from employees, but also responds them empathetically and diagnoses Covid19 Risk as per WHO's guidelines in real-time helping HR save more than 20X of their time and effort. Its Humanized, Personalized and Intelligent
All-In-One Employee Dashboard
Keep your Employees updated on their and their Colleagues Health. Share all vital Information
Remove Anxieties of your Employees by giving them a single platform to check their health, update their status, connect with their colleagues who are facing health challenges and get all vital information about Covid in All-In-one Employee Dashboard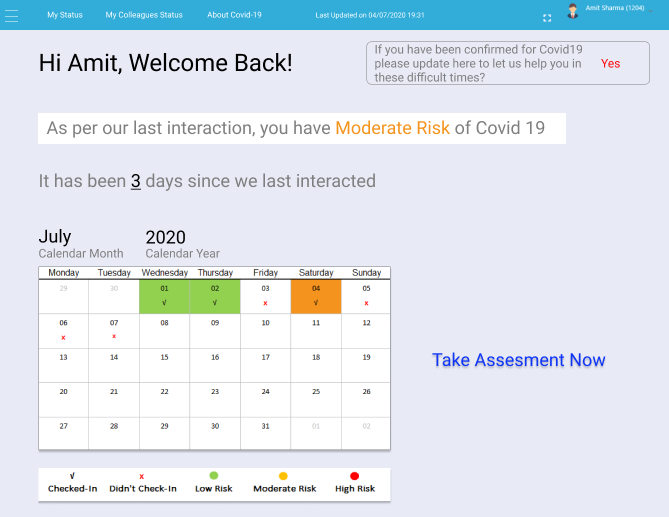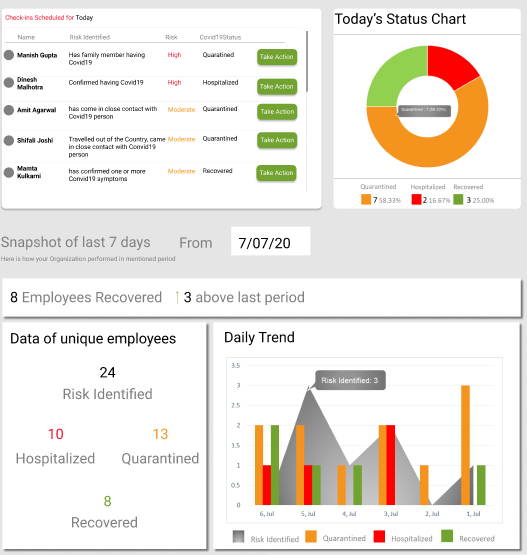 Oraganization's Health Dashboard
Monitor Health. Identify Priorities. Get Powerful Insights. Take Preemtive Actions. All in One Platform
Our Platform uses Inhouse NLP and Al to bring to you Powerful Insights into health of your Organization at super human speed while following best health practices in current pandemic crisis to keep you on top of unprecedented situations for faster, effective actions.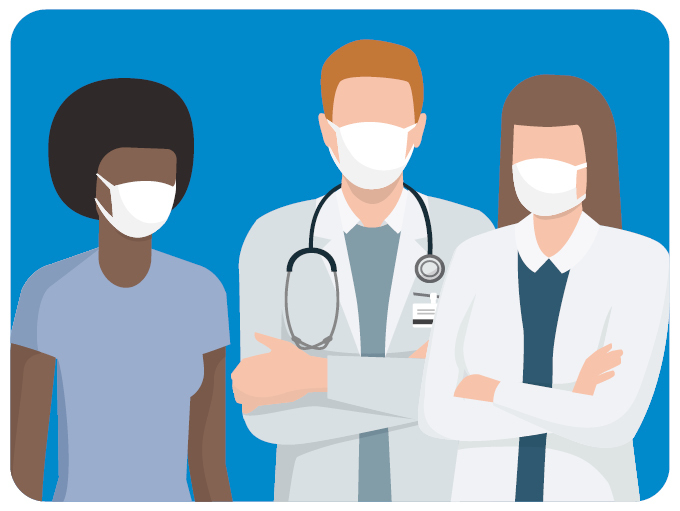 We are with You in this fight against Covid19
None of us ever experienced these Unprecedented Times before and are still struggling to get on Top of this new normal.
Our Platform aims to keep you connected with each of your employee and get you stay safe and productive during these difficult times.
How does Covid PreSense Work?
3 easy Steps to engage employees, monitor organization's health and take Preemptive Actions to stay Safe, Resilient and Productive
Use Intelligent Scheduling and Employee Mapping to automate connect with employees
Nikki, an Intelligent Virtual Assistant, not only collects vital information personally, but also responds empathetically and guides employees on dealing with Risk(s) to keep them Safe, Engaged and Productive.
Get Intelligent Insights in Real-time into overall Health of Organization, Analyze Trends as per Segments and take Preemtive Actions to stay safe and productive
Grab the Plan with
Flat Start Price Now
We have built this for our Community;  lets's get each Organization prepared for Safe and Productive environment. Buy the Plan at Flat Minimum Rate till 15th  May 2021 and keep our Nation / Organizations / Employees afloat
Days remaining for an Offer
We have the Plan for Everyone to keep you Safe
Ideal for 100 to 500 Employees
Ideal for 501 to 1000 Employees
Here is what you get in each Plan
Here are answers to few Frequently Asked Questions we have come across
© Website Name. All rights reserved.